Hello and welcome to Burns Pet Health.
Find out for yourself why we think Burns Dog Food is simply the best dog food. Fill out the Pet Health Questionnaire and we'll send you a free sample for your pet to try.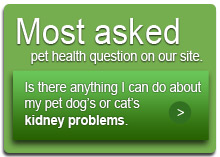 Health conditions helped by Burns foods and supplements include:
And
---
In Focus
What quantity of food should you feed your dog?
All dogs don't need the same amount of food so what is the right quantity to feed your dog to promote and maintain good health.
Help your dog's immune system.
When your dog's immune system is run-down try them with Pet Boost. This herbal food supplement re-invigorates and strengthens them.
Burns Pet Foods amongst the best in USA
Burns Pet Foods has been nominated as one of the best dog foods in the USA yet again in 2012!
Herbal Combinations
Our herbal combinations have been developed for your pets health. Nutritional nourishment from dog food allergy to diabetes in dogs.
Burns Natural, Healthy Dog and Cat Foods
"Here at Burns Pet Health, through a lifetime of animal care experience, we've learned a simple truth - that animals thrive on eating a natural, healthy, holistic diet."

Burns produce natural, "holistic dog food" and holistic cat food using the most natural, healthy ingredients.
Burns ingredients are carefully chosen for their nutritional benefits following traditional homemade recipes.
Natural ingredients help ensure each organ in the animal's body functions for the benefit of all other organs. Thus contributing towards complete health.
Burns Pet Health and our pet foods and supplements are developed with a passion for caring and thinking dog and cat owners who want the best for their pets.
Burns dog food products
The Burns holistic dog food recipes were developed in Scotland and are now manufactured in the USA.
Based on a combination of Macrobiotic and Traditional Chinese Nutritional approaches to health, Burns Pet Health Products, made using holistic principles, will make a difference to your dogs health.
We have three holistic dog foods,
Brown Rice and Ocean Fish (includes herring).
Burns cat food products
Using a combination of Chinese and Western herbs, Burns holistic cat food creates the correct conditions for health to prevail.
Like the holistic dog foods, our cat food has been developed in the same manner and with the same healthy results. Find out more about how pet herbal formulations are developed and what makes a good formula.
---
Please remember to bookmark us.
Burns Pet Health for "pet health guides" plus "healthy dog food" and "healthy cat food", "food mixers" and "diet supplements".
---
Non - USA Holistic Pet Health and Foods
---
See also: